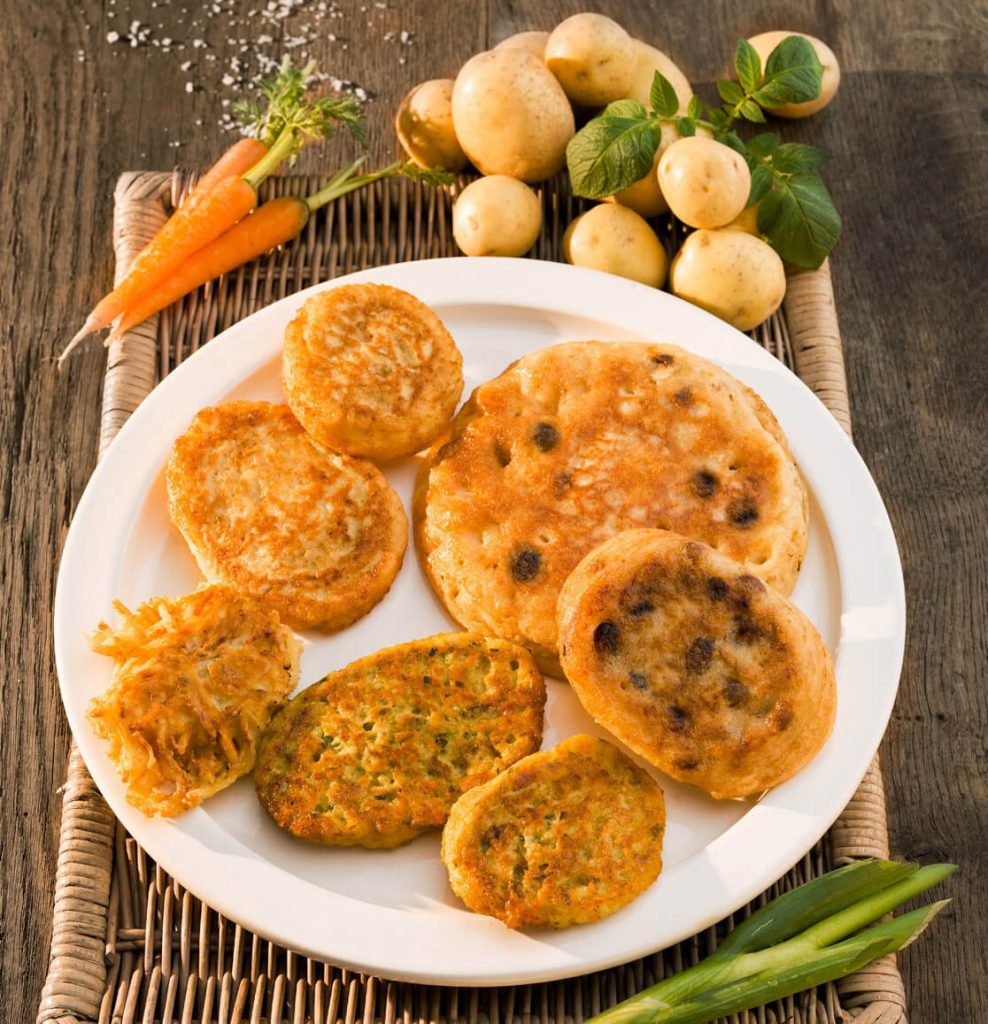 Our aim is to supply you and your customers with gourmet potato products that are undistinguishable from freshly prepared, homemade products.
We attach the utmost importance to the appearance of our products, which, through our commitment to small-scale manufacture, strikingly show our craftsmanship in every fritter and clearly set us apart from the monotony of mainstream products.
The taste of our products naturally delights the most sophisticated palates. In addition to our traditional recipes perfected over decades of meticulous work, we only use the finest ingredients:
yellow fleshed gourmet potatoes
whole eggs – no egg powder
fresh onions – no onion powder
rapeseed oil – which is rich in unsaturated fatty acids and also has a particularly balanced ratio of omega-3 to omega-6 fatty acids. This is why rapeseed oil is extremely healthy.
All our products are free from flavour enhancers, preservatives, artificial flavourings and colouring agents
We obtain our raw materials from regional suppliers with whom we have enjoyed a partnership based on trust for many years. This enables us to ensure a consistently high raw material quality all year round from which we create consistently high quality gourmet potato products.
All our products, whether fritters, pickerts or röstis, are fried ready to serve, i.e. not merely pre-fried on the outside but raw inside. Which is why they are very easy to reheat. Either simply thaw and enjoy as they are, or warm through. Since our products are extremely robust, they can be reheated in many different ways: in a convectomat, combination steamer, oven, deep fryer (no additional fat is absorbed), in a coated pan without fat, in an uncoated pan with a little fat, on the grill, etc.
Major consumers particularly appreciate our products, as their quality does not suffer even after standing or being kept warm for long periods – they still taste freshly fried.
What makes our products so special?
A short overview:
Undistinguishable from homemade products
Made from high quality ingredients only
Fried ready to serve, i.e. not merely pre-fried on the outside but raw inside
Can be kept warm for long periods of time without quality loss
Perfect for preparation in convectomats
All our products are free from flavour enhancers, preservatives, artificial flavourings and colouring agents
All products are also available gluten-free
Can be reheated without additional fat in a coated pan
No additional fat is absorbed during the frying process
Suitable for preparation on the grill
Handmade gourmet potato specialties